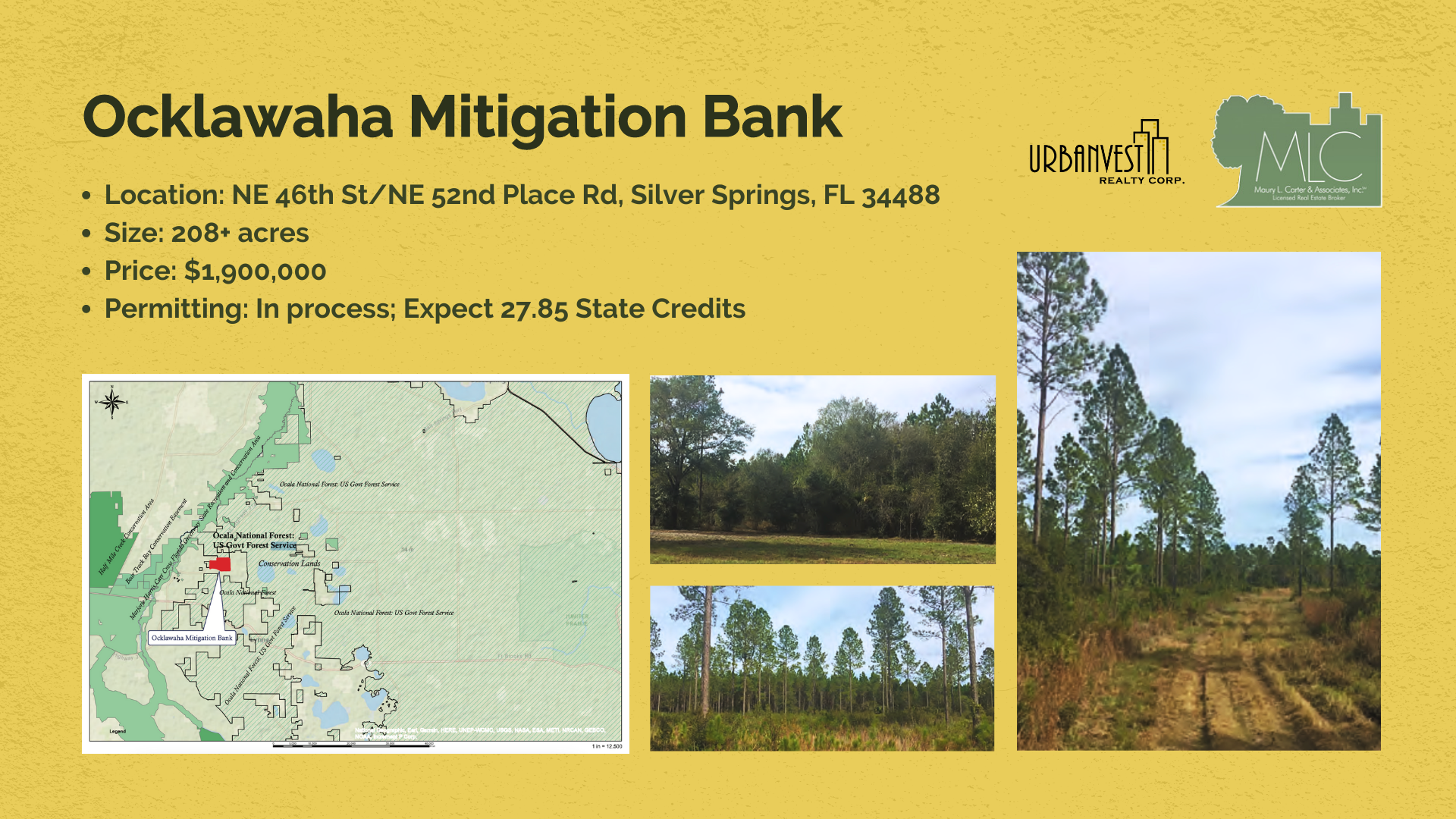 Ocklawaha Mitigation Bank for Sale
The Ocklawaha Mitigation Bank (OMB) is a 208-acre property that will yield 25.82 Forested UMAM State Mitigation Credits in the Northern Ocklawaha Basin in Marion County. Permitted by SJRWMD, this active silvicultural operation consists of densely planted pine trees on rows of elevated beds.
To restore the property's hydrology and improve the natural environmental features of the land, the owner plans to:
Harvest pine trees
Breach the elevated pine row beds
Install low water crossings and/or culverts (pipes)
Construct one (1) flashboard riser
This alignment with the region's natural state offers opportunities for credits as described in the Ocklawaha Mitigation Bank UMAM Spreadsheet.
Features:
Cypress Wetlands Preservation: 34.37 acres
Cypress Wetlands Restoration from Hydric Pine Plantation: 50.74 acres
Hydric Pine Flatwoods Restoration from Various Plantations: 70.37 acres
Wetland Coniferous Forest Preservation: 2.31 acres
Upland Credit Acres: 45.32 acres
Total Credit Acres & Credits: 206.80 acres, 27.85 credits
Location:
Positioned within the Silver Springs area and close to the Ocala National Forest, this land benefits from a prime location, suited for both restoration and conservation purposes.
Security & Monitoring:
The land is equipped with planned security measures, and monitoring maps show extensive environmental evaluation, making it a promising opportunity for eco-sensitive development.