Mitigation Banks for Sale
Victoria Colangelo at The Mitigation Banking Group, Inc. links interested buyers and sellers of wetland mitigation banks throughout the state of Florida.
Since 2004, Colangelo has been in the mitigation banking industry and through this experience her network of mitigation bankers throughout the state of Florida connects mitigation bankers that want to sell wetland mitigation banks with mitigation bankers, investors, private equites, agriculture investors that want to purchase wetland mitigation banks.
In 2019, Victoria connected the Buyer and Seller for the Neoverde Mitigation Bank which sold for $10,400,000.00 with $32 Million in Credit Assets and Crooked River Mitigation Bank which sold for $3,577,000.00 with $11.6 Million in Credit Assets.
In 2020, Victoria linked the mitigation banker (Colbert Cameron Mitigation Bank) and the buyer that sold for $5 million with mitigation credit value of $8 Million Dollars of assets including 2,620 acres of restored and conservation land.
MBG, Inc also assists clients with the due-diligence and acquisition process by providing a detailed market analysis of current supply in the market and historic demand within that specific region.
Victoria Colangelo connects Mitigation Bankers with suitable Investors looking to invest in a mitigation bank. Mitigation Bankers who are interested in entering the market rely on MBG, Inc. for vital historical analysis of mitigation credit sales and project data needed to help the process be seamless!
Florida Gulf Coast Mitigation Bank
This Mitigation Bank is permitted by State and Federal agencies, and this environmentally sensitive land has been set aside with a conservation easement! And has $20 Million in Mitigation Credits in assets to sell.
The Florida Gulf Coast Mitigation Bank & Land is FOR SALE. This Freshwater & Saltwater Mitigation Bank provides state and federal Freshwater Depression Marsh and Freshwater Forested credits within SEVERAL BASINS within the Suwannee River Water Management District, Levy County.
Conditions set forth in the Permit for establishing FGCMB and releasing credits include placing and recording a conservation easement over the Property, establishing financial assurances for construction, monitoring, maintenance and reporting, and for perpetual management, as well as implementing a work schedule that includes restoration and enhancement, and a prescribed fire program.
FGCMB is permitted by the Florida Department of Environmental Protection and the US Army Corps of Engineers.
The Permit for FGCMB requires the restoration or enhancement of portions of the Property that contain habitats that include coastal scrub, mesic flatwoods, freshwater depression marshes, and salt marshes while preserving existing high-quality hydric hammocks, sand pine scrub, maritime hammock, and salt marsh with forested islands and creeks. Enhancement work includes using mechanical methodology and prescribed fire to reduce density and height in oak canopies, and to reduce woody scrub in flatwoods and saltwater marshes. In addition, scrub oaks will be re-established in a former landfill, and the tidal regime in in salt marsh areas will be re-established by replacing four sections of road fill with two low water crossings. Invasive exotic plant species will be targeted for treatment throughout the boundaries of FGCMB. The perpetual management plan will include a prescribed fire management plan.
The financial assurances are Completely established for the implementation of construction, monitoring, maintenance, and reporting activities, as well as a perpetual management plan, that is determined by pre-approved cost estimates.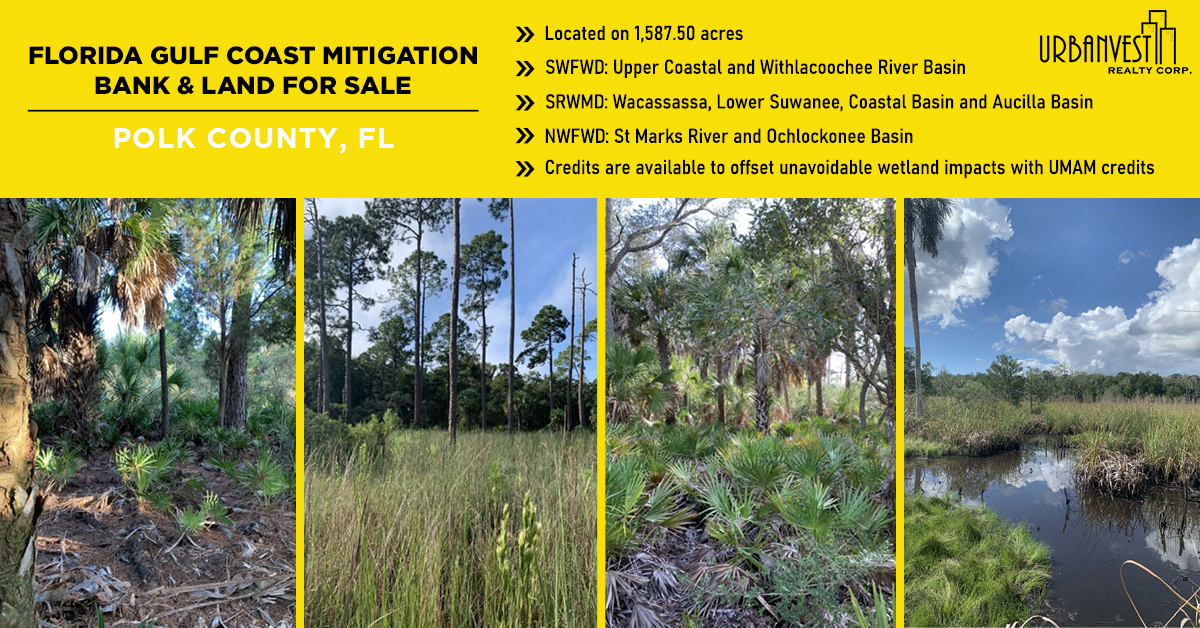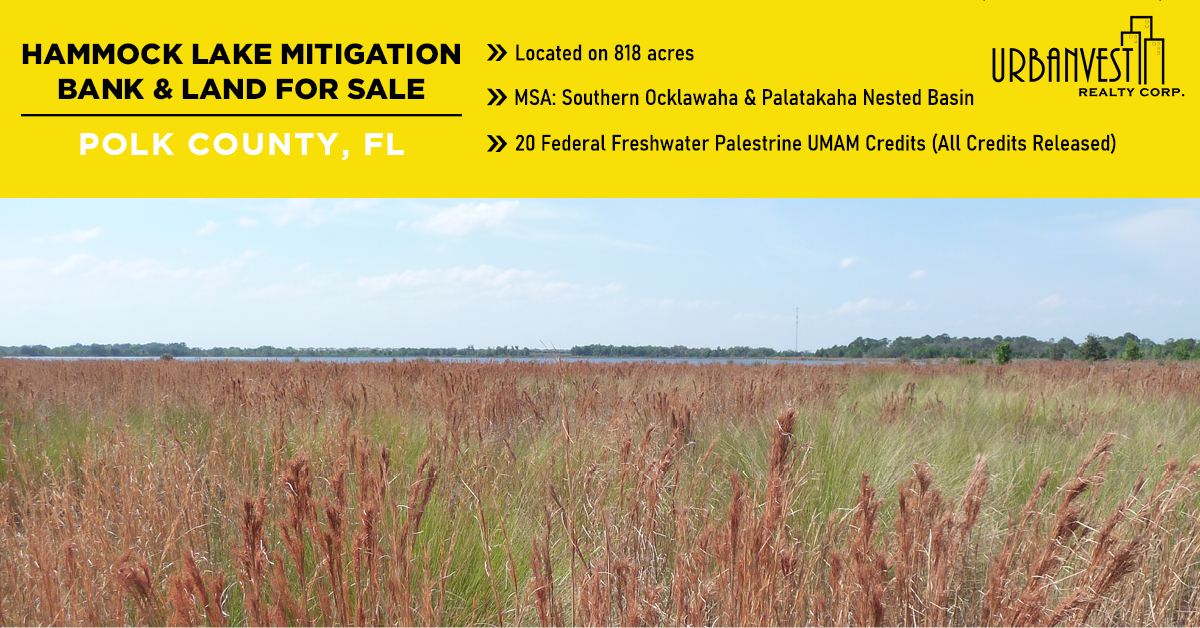 The Hammock Lake Mitigation Bank provides state and federal credits within the Palatlakaha River (Basin 13) and Southern Ocklawaha River (Basin 12) which is within the St. Johns River Water Management District, and in the Ocklawaha River Basins which is within Southwest Florida Water Management District.
Note to Interested Investors:
Permitting a mitigation bank is considered a high barrier to entry industry and risky due to the indefinite permitting timelines, standards and other unknowns. Entering the marketplace with a fully functioning mitigation bank permitted by both state and federal agencies is a unique, valuable long-term asset, that awards you less risk and a several years of time-savings!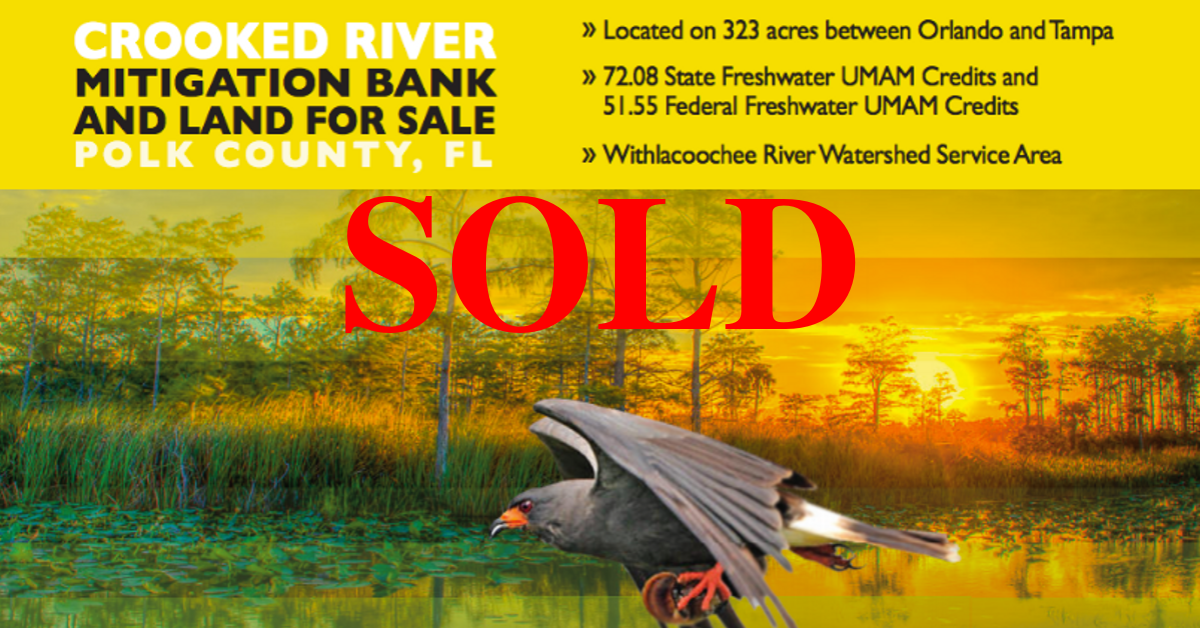 The Crooked River Mitigation Bank (CRMB) is 323.10 acre mitigation bank. CRMB requires the restoration and enhancement of 145.93 acres of forested marsh and 83.23 acres of freshwater marsh, restoration of 18.21 acres of wet pine flatwoods, establishment of 34.57 acres of forested wetlands and 36.71 acres of freshwater marsh, restoration of 4.24 acres of adjacent upland buffer pine flatwoods, and preservation of all 323.10 acres within the CRMB boundary.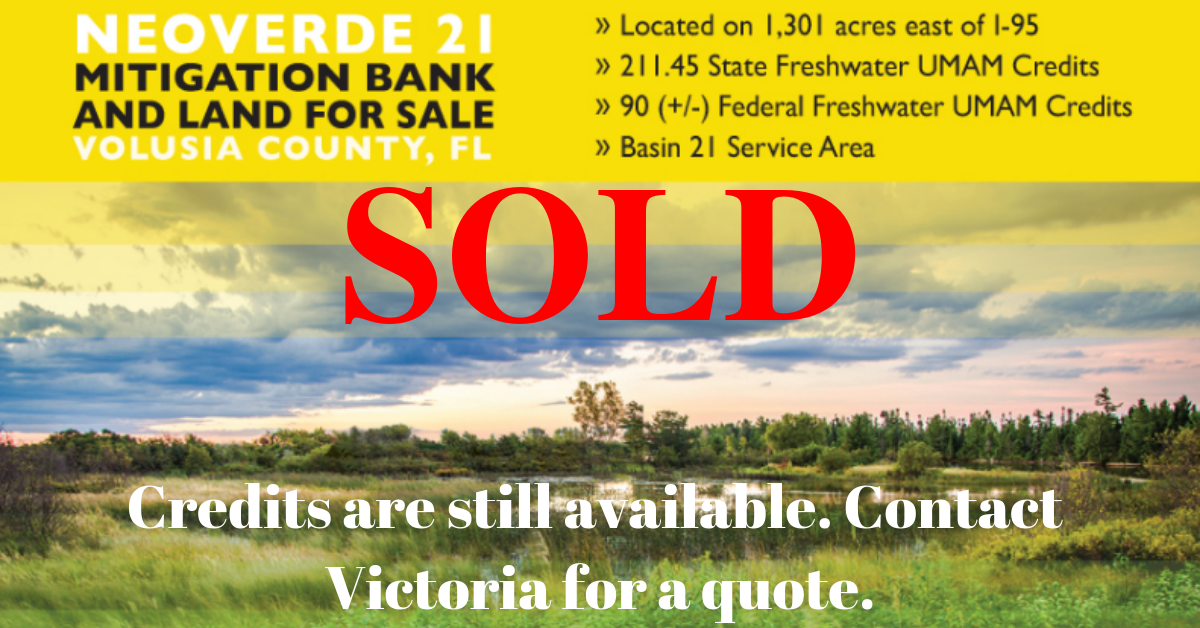 Neoverde Basin 21 Mitigation Bank is a 1,301.19 mitigation bank in Volusia County, Florida. There are currently no other Mitigation Banks permitted in Basin 21, and market demand is strong.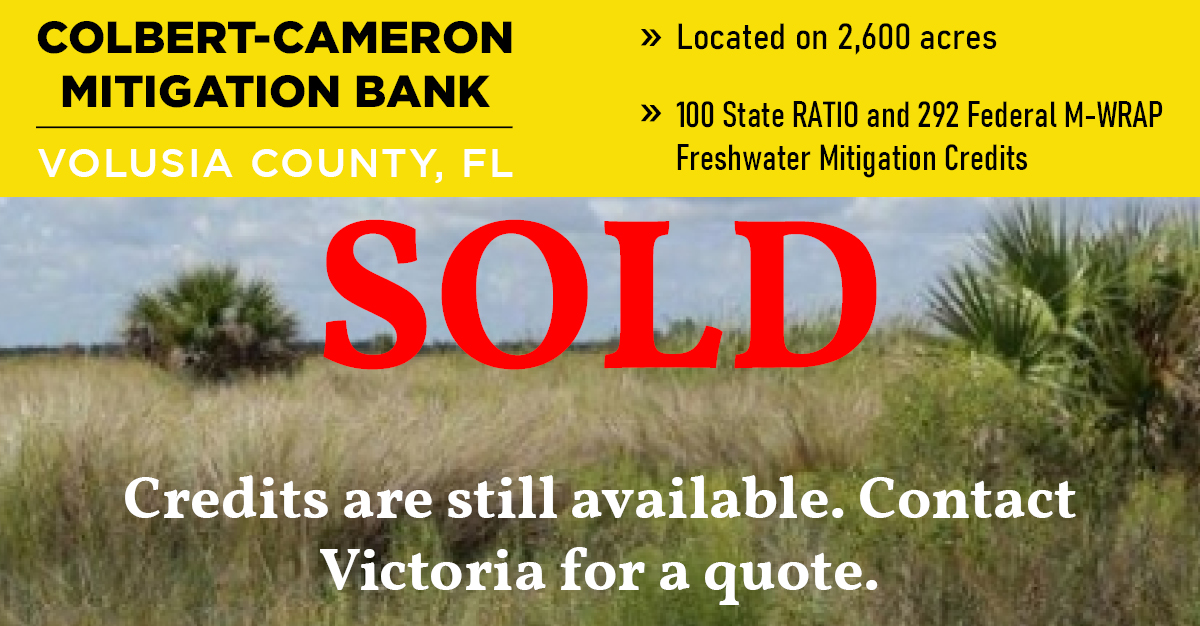 Colbert Cameron Mitigation Bank is a 2,620 acre bank that provides state and federal credits within the St. Johns River (Canaveral Marshes to Wekiva) Basin (Basin 18), Econlockhatchee Nested Basin (Basin 19), Lake Jesup ( Basin 23), and part of the Southern St. Johns River (Basin 20) located within the St. Johns River Water Management District.