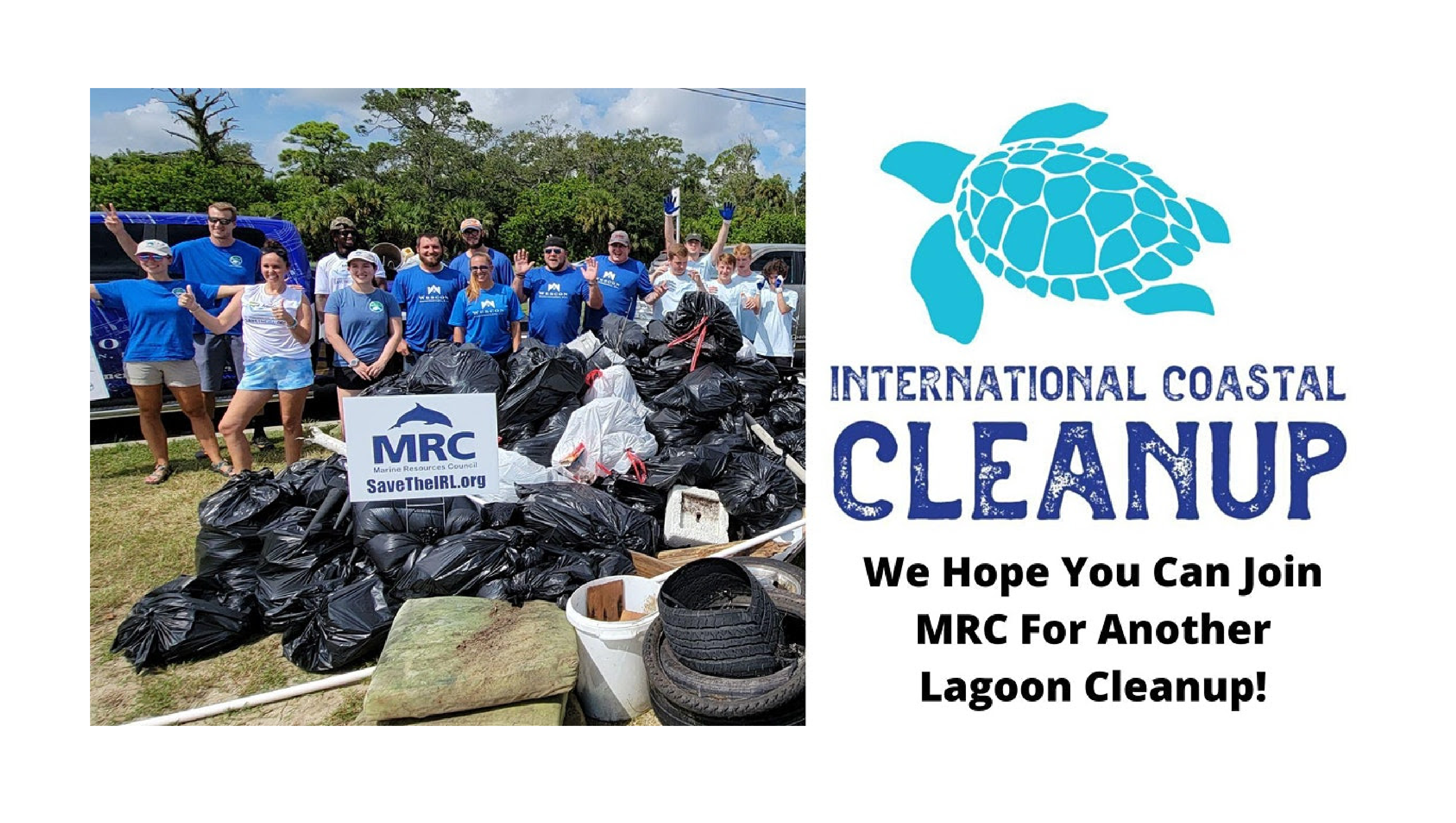 Let's get together for the Lagoon!
The International Coastal Cleanup began more than 30 years ago when communities rallied together with the common goal of collecting and documenting the trash littering their coastline. The Marine Resources Council invites you to join in for this year's cleanup on Saturday, September 17, 2022, at 8:00 AM.
For event details and to RSVP, please click the "Register" button below, or visit https://2022coastalcleanup.eventbrite.com/?aff=eb. Please register soon because the supplies for this event are allocated for each site based on registrations. Thank you for your support!
~ MRC Cleanup Site 1:
Cleanup will take place along the shores of the 192 Melbourne Causeway and Kiwanis Park at Geiger Point.
~ MRC Cleanup Site 2:
Cleanup will take place along the shores of the Eau Gallie Causeway and Boat Ramp.
~ MRC Cleanup Site 3:
Cleanup will take place along the shores of the Pineda Causeway & POW / MIA Park (formerly Pineda Landing Park).
~ MRC Cleanup Site 4:
Cleanup will take place along the shores of the 520 /West Cocoa Beach Causeway.
*The event is free to participate in. Funds for the cause are raised through event shirt sales, sponsorships, and donations. Event shirts are $25-$29 (+Eventbrite Fees). All participants need to register for their shirts by August 31, 2022.
*Shirts are only available by preorder and are not available for sale on the day of the event.
Event Sponsorships Start at $175: Show your support for the Lagoon by adding your company logo to the event shirt.
*For sponsorship details, please contact Steve at SharkeyMRC@gmail.com or call 321.978.8862.
Coastal Cleanup Volunteers! You Rock!
Thank you for being a part of one of the largest cleanups in the world. You, the volunteers, are the most important part of this event because it would not be possible without you.
This Saturday, you will pick up debris that has washed ashore, been blown from inland, or left behind trash from visitors. It is vital to remove this trash to protect water quality and to prevent it from endangering wildlife and people.
There will be a check-in tent at every cleanup location.
Every participant has to check in by signing the Liability Waiver Sign-InSheet.
Let's go over the safety guidelines to follow throughout the cleanup event:
Currently, our cleanup locations are wet and swampy. We have had high levels of rain leading up to the event. Please dress appropriately and use caution.
Wear gloves to pick up trash.
Please do not touch or pick up dead animals. If you come across an injured animal, please alert the site management team, and we will contact the necessary organization. (888-404-FWCC (3922)
Please avoid syringes, needles, and sharp objects.
Focus on litter and trash removal and respect people's private belongings. If you are unsure if you should remove something, please leave it.
All children under 16 must be accompanied by an adult.
Be alert for snakes, stinging insects, and poisonous plants.
Stay hydrated!
Please Have Fun! Smiles and extra high fives are recommended because you rock!
Take pictures -Please send your awesome and fun cleanup photos to (321.978.8862 or SharkeyMRC@gmail.com.
Any event supplies (trash bags, buckets, gloves, etc.) you can provide for yourself are greatly appreciated and helps reduce event costs.
Data Cards – will be provided for you.
This event is an important citizen science data collection event, as well as a shoreline litter cleanup.
The purpose of the data cards is to collect statistics on the most frequently littered items so that resolutions can be made on the best ways to reduce waste in the future.
When filling out the cards, please keep the following in mind:
Count items in groups of five (as shown in the example on the card).
Do not write words regarding pieces of trash; please count every piece.
Please return your data cards to your check-in location. We ask this of you so that we can get a final trash count for data collection and reporting purposes.
What to Pick Up:
Please only pick up man-made items like plastics, metals, glass, Styrofoam, etc. Natural debris, such as beach wrack, or sargassum seaweed, should be left alone. Most of the debris you will find will be small or microplastics. It is extremely important to concentrate on picking up these tiny bits of trash because once they enter the water, they are nearly impossible to remove. Also, if you find anything we like to call "unusual finds" (ex. Plastic flamingos, TVs, Microwaves, etc.), please bring it to the site management's attention. We want to know about the weird and mysterious treasures you find. Thank you.
Recycling:
It is a wonderful idea to separate recyclable items, but unfortunately, most items found are contaminated, and therefore they are unable to be processed.
For Your Safety:
Be in good health – If you are feeling ill or have been exposed to someone who may be ill, please do not participate.
Stay hydrated
Wear gloves and use caution when picking up sharp objects.
Wear closed-toed shoes and appropriate clothing
Be alert for snakes, stinging insects, and poisonous plants
Use proper lifting and bending techniques
Stop working in bad weather
Stay off loose rocks and steep slopes
Wash and sanitize your hands!
In Case of Emergency:
Be aware of the nearest emergency room/hospital
Have transportation immediately accessible
Call 911
Recommended Supplies:
• Work gloves (bring a pair of gloves with you)
• Dress appropriately (the shoreline is covered with boulders, rocks, and potentially dangerous rigid & sharp objects)
• Water to keep you hydrated; it will be especially warm (bring your own cooler)
• Food (bring your own food)
• Sun Screen and rain ponchos are advised
• Bring trash bags, reusable containers, or buckets for trash
• Pens or Pencils (for data collection)
Keep These Safety Tips in Mind:
Review what to do in case of a health emergency (heat exhaustion or heat stroke, a broken bone, etc.)
When visiting the site, look for natural and man-made safety hazards, such as rocky areas, highly variable tides, poisonous plants, high-speed roads, power lines, etc. If necessary, dress accordingly, such as wearing long pants or closed-toed shoes.
Plan ahead for handling sharp items, including syringes or pieces of broken glass. We recommend disposing of these items in a container with a tight screw lid, such as an empty liquid laundry detergent bottle that you have clearly labeled.
We look forward to cleaning up our shorelines with you. Thank you for your support!