MBG Blog: FAEP & CFAEP Hydric Soils Training Workshop
Recently, I had the privilege of participating in the CFAEP Hydric Soils Training workshop organized by the Central Florida Association of Environmental Professionals. This comprehensive workshop aimed to enhance our understanding of hydric soils and their significance in environmental conservation. Through engaging sessions, hands-on activities, and a rewarding field trip, we gained valuable insights into identifying, classifying, and assessing hydric soils.
The workshop, led by experienced professionals, provided a conducive learning environment. The training materials were comprehensive, and the interactive nature of the sessions made the learning process enjoyable. The field trip offered a firsthand experience of observing hydric soils in their natural habitat, reinforcing the importance of these soils in supporting wetland ecosystems.
Upon successful completion of the workshop, participants, including myself, received a training certificate from the CFAEP. This certificate acknowledges our commitment to professional development and environmental stewardship, serving as a symbol of our enhanced understanding of hydric soils.
Attending the CFAEP Hydric Soils Training workshop was a significant step forward in my environmental career. It equipped me with the knowledge and skills necessary to contribute effectively to environmental conservation, particularly in wetland ecosystems. Armed with my training certificate, I am better prepared to address future challenges and opportunities while ensuring a sustainable environment for future generations.
Overall, the CFAEP Hydric Soils Training workshop was a rewarding experience, fostering professional growth and expanding my network within the environmental community. I am grateful to the Central Florida Association of Environmental Professionals for organizing such a valuable event and providing a platform for continuous learning and development.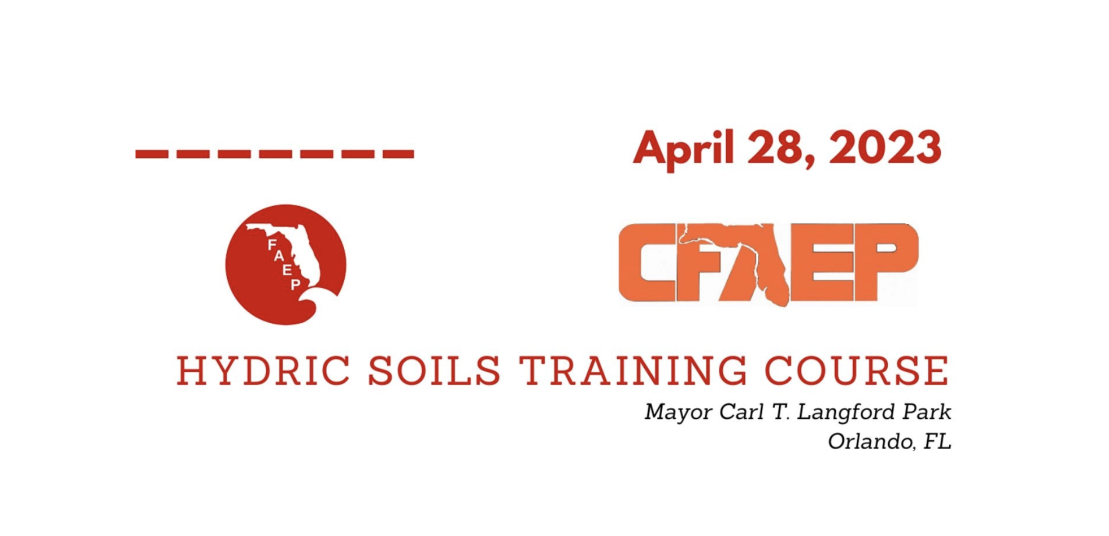 Why Should You Participate?
You can learn the
Fundamentals of hydric soils
Field determination of muck, mucky mineral, and mineral
Identification of field indicators of hydric oils and documentation
Interpretation of altered soils
You can earn CEU credit
Professional Wetland Scientist (0.24/session)
Engineering (4 hours/session)
FAEP Member Only Training
Course Fee: $120/session
Only 15 seats/session
Visit www.faep-fl.org to become a member!