YAZOO MITIGATION BANK: A UNIQUE RESTORATION & INVESTMENT OPPORTUNITY IN GEORGIA
Welcome to the Yazoo Mitigation Bank page – your gateway to one of the most exclusive investment opportunities in Georgia. This unique restoration project boasts not only potential wetland credits but also an astonishing nearly 75,000 stream credits, offering an anticipated credit revenue of $18 million.
Situated in a prime service area with no competition and high demand, the Yazoo Mitigation Bank spans over 98 acres of potential. Though currently suspended, it is ripe for rejuvenation. With an estimated purchase price of $3.1 million and an additional $2 million expected in construction costs for restoration, the bank represents a compelling opportunity for ambitious investors.
The bank received its initial permit in 2008 and saw a release of credits. However, due to the absence of initiated restoration activities by the previous owners, its operations were suspended in November 2022.
Now, we're on the hunt for a fresh, visionary owner ready to invest in this rare opportunity and bring Yazoo Mitigation Bank back to life, ensuring its compliance with regulations.
Victoria Bruce is eager to provide you with more details about this exceptional opportunity. Contact her at 407-808-2222 to learn more about this venture that combines environmental restoration with solid investment returns.
This opportunity is fleeting. As interest from numerous investors is already piquing, we invite you to seize the moment and explore this exclusive mitigation bank investment. Don't wait – reach out today!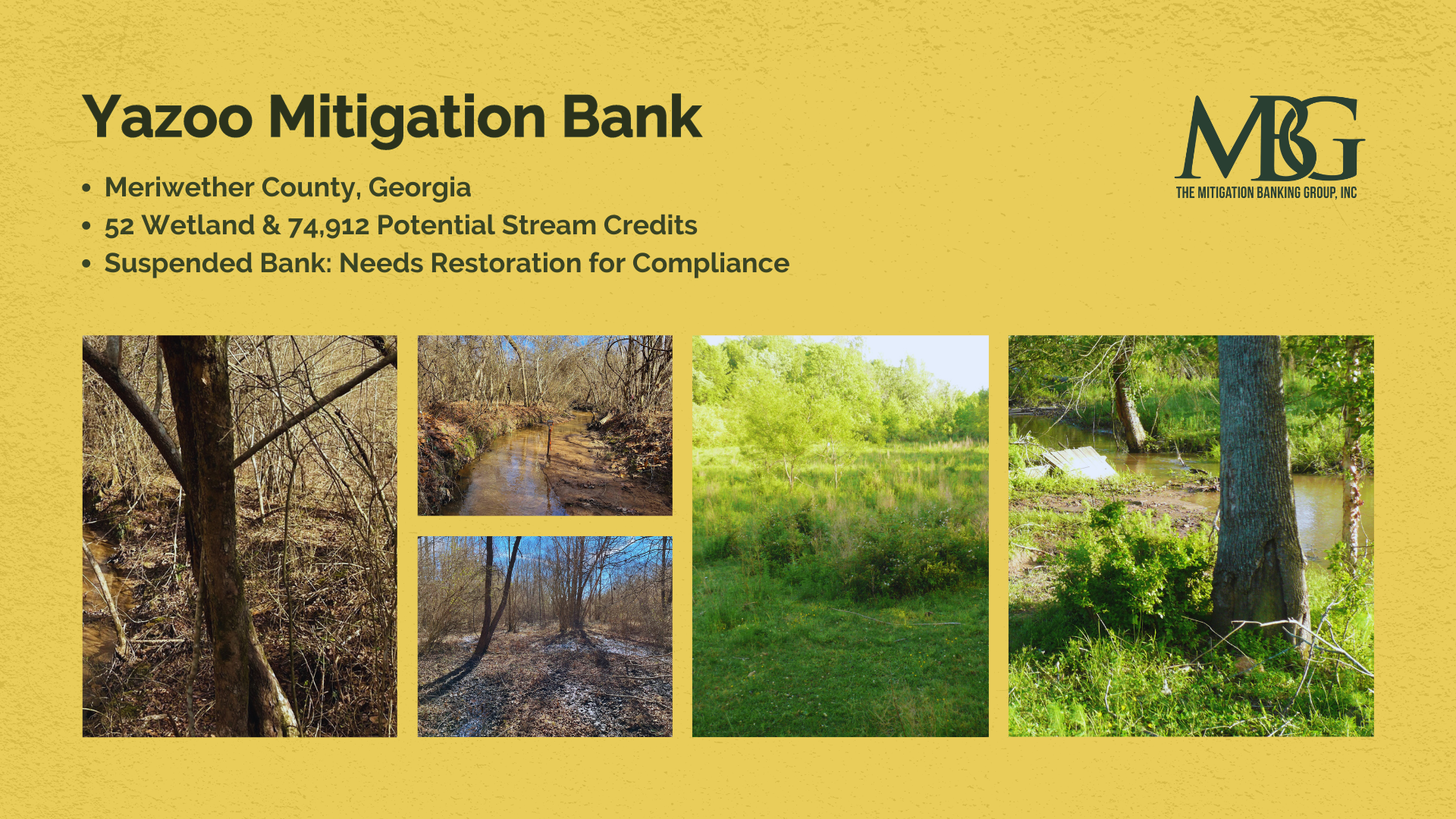 Yazoo Mitigation Bank Information Summary
Location: Meriwether County, Georgia
Bank Specifications:
Wetland Credits: 52
Stream Credits: 74,912
Stream Length: 7,754 Linear Feet
Total Area: 98 Acres
Status: The bank is currently suspended and requires restoration for compliance.
Public Lands: The bank is not located on public lands.
Bank Details:
Bank Type: Private Commercial
Bank Status: Suspended
USACE District: Savannah
FWS Field Office: Georgia
NOAA Fisheries Region: Southeast
State: Georgia
County: Meriwether, Georgia
USACE Permit/Tracking No.: 200602359
Status/Date: Suspended on 09/02/2022
Establishment Date: 01/29/2008
Important Note
Credit reservations and pending transactions are not included in the Available Credits total. Potential buyers must contact Victoria to confirm credit availability.
Contact
Victoria Bruce
Email: victoria@mitigationbankinginc.com
Office: 407.960.5787
Cell: 407.808.2222
Please note that this bank requires restoration to meet compliance regulations and is currently not in operation.